Welcome to Transcrete Concrete Pumps
We've been manufacturing concrete pumping equipment since 1968 and the longest running concrete
pump manufacturer in Australia, giving you low cost reliable concrete pumps you can count on !
A Transcrete concrete pump does more than just pump concrete. It can be the start of a successful concrete pumping service. It can be the best tool a successful concrete placing company owns. Read More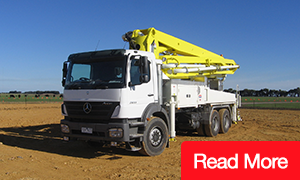 A concrete pump is a large investment. Transcrete pumps are renowned for their durability and long life. There are Transcrete pumps 30 and 40 years old that still pump on a daily basis.
Get In Touch With Us Today
Give us a call 24/7 our phone is always answered by a friendly experienced staff member. We do not have a "call tree" no push this … push that, we love to talk concrete pumps. Even if you are not in the market as yet, but considering the concrete pumping industry … we listen